HANSAMO Annual Showcase 2023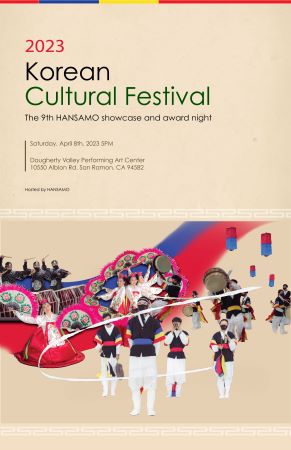 Established in 2011, Hansamo has been a homegrown, non-profit, student-led organization in
San Ramon, providing opportunities to middle and high school students interested in learning,
performing, and promoting traditional Korean music, dance, art, language, and culture.

Hansamo has been known for performing traditional Korean music and dance, delighting
audiences of all ages, and promoting diversity in the community.


It has been a meaningful journey for us to support multicultural events in the community.
Hansamo is making a tradition and keeping the longevity of quality annual events for our
community. Please join us to experience refined Nanta Drum Play, Pangut Pungmulnori, Fan
Dance, Lion Dance, Flag Dance, Martial Arts, and more

Ticket Prices:
Adult - $10.00 + Ticketing Fees
Student/Child (17 & under) - $5.00 + Ticketing Fees
No Refunds or Exchanges