Llama Llama Red Pajama LIVE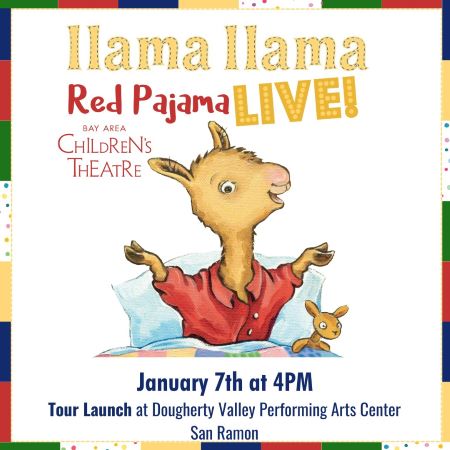 It's a big first day of school, and Llama's happy to be home a wearing his favorite red pajamas. After his bedtime story, Mama Llama tucks him in and pops downstairs. Llama's toys try to help him relax, but he's too wiggly. He needs a drink of water. But where did Mama Llama go? Why isn't she coming? Our original, world-premiere musical will have everyone doing the Bedtime Dance!

General Admission: $35 + ticketing fees
Children under 2 are free

BAY AREA CHILDREN'S THEATRE AUDIENCE PROCESS
REQUIRED PRIOR TO ENTRY...

We ask audience members to show up early to the show to go through the following process:

∙ Temperature checks
We will be administering temperature checks at the doors of our theater. Audience members with temperatures over 100.4 F will be
asked to return to a later show date when their temperature is lower and they are feeling better.
∙ Masks are required
∙ Vaccination Requirements
Both adult and children audience members must be prepared to show one of the following:
Proof of vaccination OR a negative COVID-19 test
These are the types of tests we will accept at the door:
● A negative COVID-19 rapid antigen test within 24 hours of the performance
***Note – We will accept pictures of negative tests***

Feeling Sick?
In the event that you should feel sick or experience symptoms of COVID-19 , we encourage you to please stay home. Performances
are not able to be changed, rescheduled, refunded or given credit for.

Tickets Purchased for Others
If you are the ticket purchaser, it is your responsibility to communicate BACT's vaccination and mask policy to others in your party.
Please forward any show-related email to your guests so that they know what to expect before their visit.