Sheena Easton & Taylor Dayne - Ladies Night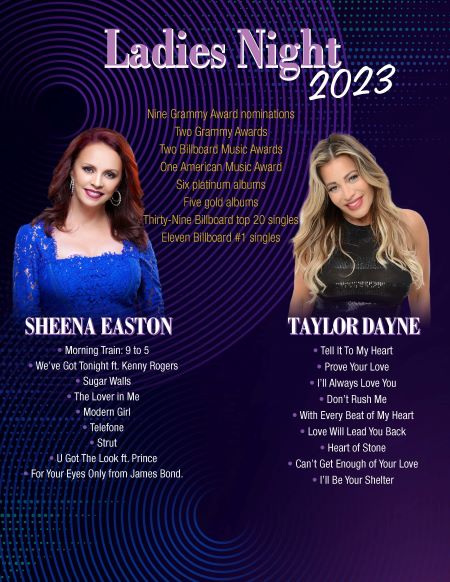 Saturday, March 11, 2022 at 8:00pm
Dougherty Valley Performing Arts Center

SHEENA: Seen in venues not only nationally but internationally, SHEENA continues to perform her hits and fan favorites. She is most at home working with her band, but has expanded her love of the concert stage as a guest vocalist in various programs with symphonies across the nation. This allows her to blend her romance with various styles of music - American standards, pop and Broadway. SHEENA has sold over 20 million records worldwide. She has received two Grammys, and was the first - and still only - artist to have top five records on five major Billboard charts. In addition to her recording success, SHEENA is a top concert attraction around the world.

TAYLOR DAYNE is an American pop icon. With a career spanning three decades, Taylor's groundbreaking debut single "Tell It To My Heart" turned her into an overnight international star in 1987. She followed the smash hit with seventeen Top 20 singles over the course of her three-decade career, including Number Ones "Love Will Lead You Back" "Prove Your Love" and "I'll always Love You." Taylor has sold over 75 million albums and singles worldwide, earned three GRAMMY nominations, an American Music Award, multiple New York Music Awards, received New York Music Hall of Fame honors and ranked as the Number 18 Female Dance artist of all time by Rolling Stone magazine. She is one of the very few artists in musical history to successfully crossover into almost every musical genre and chart with hit singles in Pop, Dance, R&B, Adult contemporary and Rock.


NO Refunds or Exchanges